Beta is Creep's cousin who is exactly born on the same day as his cousin in black. He has the job of a pirate captain who finds his loot very easily. Sometimes he'll share his loot with Creep and the mob because him and Creep hang out with each other more than Demon and his little brother, Gamma. The reason why he became a pirate is because he watched too much pirate movies as a pichu and he lost his right eye in combat with his high school rival, Manny the Magmar.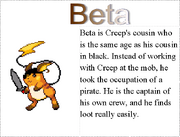 Personality
Edit
Beta is nice (only to his cousins and brother) but mostly he is greedy.
Relationships
Edit
Creep: Cousin
Nermal: Cousin
Ice: Friend
Ninja: Friend
Poke: Friend
Karo: Friend
R.O.B.: Friend
Young Creep: Friend
Demon: Cousin
Gamma: Brother
Zoltar: Friend
Ad blocker interference detected!
Wikia is a free-to-use site that makes money from advertising. We have a modified experience for viewers using ad blockers

Wikia is not accessible if you've made further modifications. Remove the custom ad blocker rule(s) and the page will load as expected.