Thief of Darkness
Edit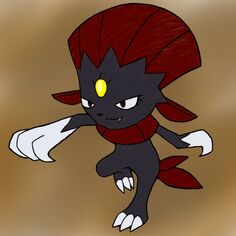 Blizzard is a Weavile that appears to have darker fur than the ordinary Weavile which is way some started to call him the Thief of Darkness, that and the fact he's a dark type and usually steals at night or anywhere dark. The oval on his forehead appears brighter than most Weaviles however. Even with his own title he isn't that well known of a thief but that could be because he refuses to steal anything useful pokemon has worked hard to get or any items that seems like it could have great sentimental value. Despite that as a Sneasel, Frost often scolded him and tried to make him leave the idea of becoming a thief. Other than stealing Blizzard enjoys laying around and relaxing, he says he likes taking it easy.
Personality
Edit
Blizzard is a very calm and laid back Weavile, he has the power and speed that most would have but many would mistake him for not having it due to being "lazy". He often keeps his cool and rarely appears excited or nervous, some would call him a cool dude which is one image he aims for.
Relationships
Edit
Ice: Younger Sister
Snow: Younger Sister
Frost: Older Brother
Ad blocker interference detected!
Wikia is a free-to-use site that makes money from advertising. We have a modified experience for viewers using ad blockers

Wikia is not accessible if you've made further modifications. Remove the custom ad blocker rule(s) and the page will load as expected.