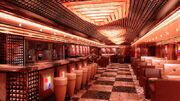 Description
Edit
The Chocolate Bar is a bar that serves nothing but sweet, chocolatey things. The Chocolate Bartender works here, but may be the manager, it is yet to be confirmed. Karo is found here a lot when he's celebrating, thinking, sleepy or depressed. On the bright side of this place, you can't get drunk here...But you can get a wicked sugar rush or sugar crash!
Noctowl: Chocolate Bartender
Ad blocker interference detected!
Wikia is a free-to-use site that makes money from advertising. We have a modified experience for viewers using ad blockers

Wikia is not accessible if you've made further modifications. Remove the custom ad blocker rule(s) and the page will load as expected.