Demon is Creep's younger sister who relates to Ice as her rival. She usually comes to the building to see his brother at work, always wondering what he is up to. She's is called "The Black Menacette" by Meowth.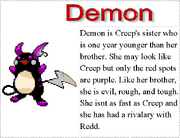 Personality
Edit
Demon has the same personality as Creep, only she was once arrested.
Relationships
Edit
Creep: Brother
Nermal: Brother
Ice: Rival
Ninja: Friend
Poke: Friend
Karo: Friend
R.O.B.: Friend
Young Creep: Friend
Beta: Cousin
Gamma: Cousin
Zoltar: Pet
Ad blocker interference detected!
Wikia is a free-to-use site that makes money from advertising. We have a modified experience for viewers using ad blockers

Wikia is not accessible if you've made further modifications. Remove the custom ad blocker rule(s) and the page will load as expected.