Gamma is Creep's Little Cousin and Beta's Brother. He works as a real estate agent downtown. He is a little gentleman who always lets the ladies go first. "Like they say, 'ladies first'" he says.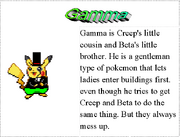 Personality
Edit
Gamma is friendly, kind and caring. he tries to teach Creep and Beta the true quality about being a gentleman, but Creep likes being evil and Beta like being greedy.
Relationships
Edit
Creep: Cousin
Nermal: Cousin
Ice: Friend
Ninja: Friend
Poke: Friend
Karo: Friend
R.O.B.: Friend
Young Creep: Friend
Demon: Cousin
Beta: Brother
Zoltar: Friend
Ad blocker interference detected!
Wikia is a free-to-use site that makes money from advertising. We have a modified experience for viewers using ad blockers

Wikia is not accessible if you've made further modifications. Remove the custom ad blocker rule(s) and the page will load as expected.