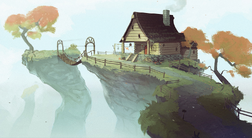 Karo's house is a quaint little cabin on a cliff at the end of a pathway. The path can be directly followed into the Evergreen Village, which seems to lead to nearly anywhere else through various forks and routes.
Karo , Baron, and Harold live in the house peacefully, and always welcome in visitors. They do not live too far from other houses, but they could be considered to be a bit distanced from civilization. Although not constantly, Eclipse will sometimes be seen around the house. It's not known if he lives there, or if he just visits often.
Description
Edit
The house was initially built by Ronald and Ricky , but it was "upgraded" by Karo's helper robot that Kato made, Harold. At its current state, it is a wooden cabin that has a stone foundation. There's a wooden fence that surrounds the vicinity, so that no one will fall into the large pit underneath the hill. However, it comes to an end when solid ground is met in the north, and when the small bridge begins in the south. The little plot of land that the bridge leads to currently just holds a large tree, and Karo can think of nothing more to add there.
In the yard, Karo has a well, and a clothesline, although clothes are traditionally never seen on it. Rumors say that Baron's disguise can sometimes be found drying on it, though. There's also plenty of room to make bonfires on the premises.
Upon walking up the steps and inside the front door, you will directly enter the den. It's relatively small, and pours into the kitchen. Beyond the kitchen, there's a door that leads into the bedroom (in which all of the residents share, the only dividing factor is a curtain that can be pulled out as a screen), and in that room there's a door to the restroom.