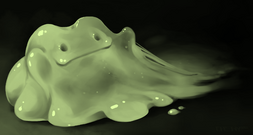 "Now I'm Karo!" Edit
Karp is a clone of Karo, and can be described as his arch-rival. He's never been seen by anyone other than a select few, so it could be said that he's Karo's imaginary friend. Not much is known about him, but he is a bit of a troublemaker. Karp tries to beat Karo to the punch in a variety of ways, and hopes to one day replace him.
Although his creator is unknown, he seems to be some sort of failed attempt. His green color makes him look like slime, but he doesn't have the abilities as a normal Ditto. He can only stretch and change shape, not color or appearance.
Karp is not affiliated with Kreap, Orak, Aisu, or Aldebaran in anyway.
His name comes from the idea of when others misspell Karo by one letter.
He's a failed clone of a failed clone. How original.
Karo frequently has dreams (even nightmares) with Karp in them.