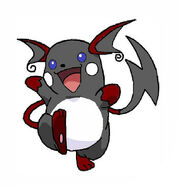 Kreap is the Evil Clone of Creep who thinks he's cool, and dont know squat about working out a perfect mob. He has blue eyes rather than red, and gray fur rather than black. He is the Leader of his team, Aisu and Neenja. As they try to wipe out Creep and his mob, their plans always fail. When there's a situation neither him nor Creep can get out of, they sometimes have to join forces, but then they go back to being enemies until another tough situation happens.
Personality
Edit
Kreap is more evil than Creep and can be a little to ruthless. He hates everything Creep likes. Creep likes spider eyes and coffee Kreap prefers rotten flesh (from zombies) and tea. He is called "Lapis Lazul-eyes" by Creep while he calls the raichu in black "creepypasta" or "devil eyes"
Relationships
Edit
Aisu: Friend, Fellow Evil Clone
Neenja: Friend, Fellow Evil Clone
Creep: Enemy, Rival
Nermal: Enemy
Ice: Enemy
Ninja: Enemy
Poke: Unknown
Karo: Enemy
Ad blocker interference detected!
Wikia is a free-to-use site that makes money from advertising. We have a modified experience for viewers using ad blockers

Wikia is not accessible if you've made further modifications. Remove the custom ad blocker rule(s) and the page will load as expected.