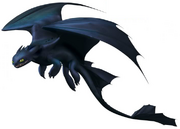 Nermal is Creep's little brother adopted from a local dragon orphanage. He is one of the mob's basic members who helps Creep do his work. but he is kinda overshadowed by his sibling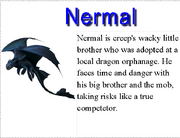 Personality
Edit
Nermal is wacky, daring, dangerous, caring, and is always there for his big brother. Despite his caring behiavior, you don't wanna make him angry!
Relationships
Edit
Creep: Older Sibling, Boss, Fellow Mob Member
Ice: Friend, Fellow Mob Member
Ninja: Friend, Fellow Mob Member
Poke: Friend, Fellow Mob Member
Karo: Friend, Fellow Mob Member
R.O.B.: Friend, Fellow Mob Member
Young Creep: Friend, Fellow Mob Member
Kreap: Enemy
Aisu: Enemy
Neenja: Enemy
Magnezone: Enemy
Demon: Sister
Beta: Cousin
Gamma: Cousin
Zoltar: Pet
Job at the Mob
Edit
Nermal is a co-worker at the mob who always assists creep with his work.
Favorites
Edit
Food: Fish
Color: Green
Hobby: Hanging out with Creep
Video Game: Mario Kart 7
Trait: Wackiness
Number: he can't remember....
Physical Feature: wings
Drink: Soda
Minecraft Enemy: Creeper
Contraption: R.O.B.
Weapon: His Painful Blue Fireballs
Sibling: Creep
Pet: Zoltar
Friend: Ninja
Music: Rock
Transformation
Edit
Creep gave nermal a potion so he can transform into anything he wants. but he can turn back into a night fury anytime he wants
Ad blocker interference detected!
Wikia is a free-to-use site that makes money from advertising. We have a modified experience for viewers using ad blockers

Wikia is not accessible if you've made further modifications. Remove the custom ad blocker rule(s) and the page will load as expected.