Zoltar is Creep's pet growlithe who helps his owner at the mob on some occasions. If Creep or any of his mob members are in trouble, Zoltar comes to the rescue.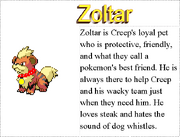 Personality
Edit
Zoltar is loyal, caring, and just so adorable.
Relationships
Edit
Creep: Owner
Nermal: 2nd Owner
Ice: Friend
Ninja: Friend
Poke: Unknown
Karo: Friend
R.O.B.: Friend
Young Creep: Friend
Demon: 3rd Owner
Beta: Friend
Gamma: Friend
Ad blocker interference detected!
Wikia is a free-to-use site that makes money from advertising. We have a modified experience for viewers using ad blockers

Wikia is not accessible if you've made further modifications. Remove the custom ad blocker rule(s) and the page will load as expected.